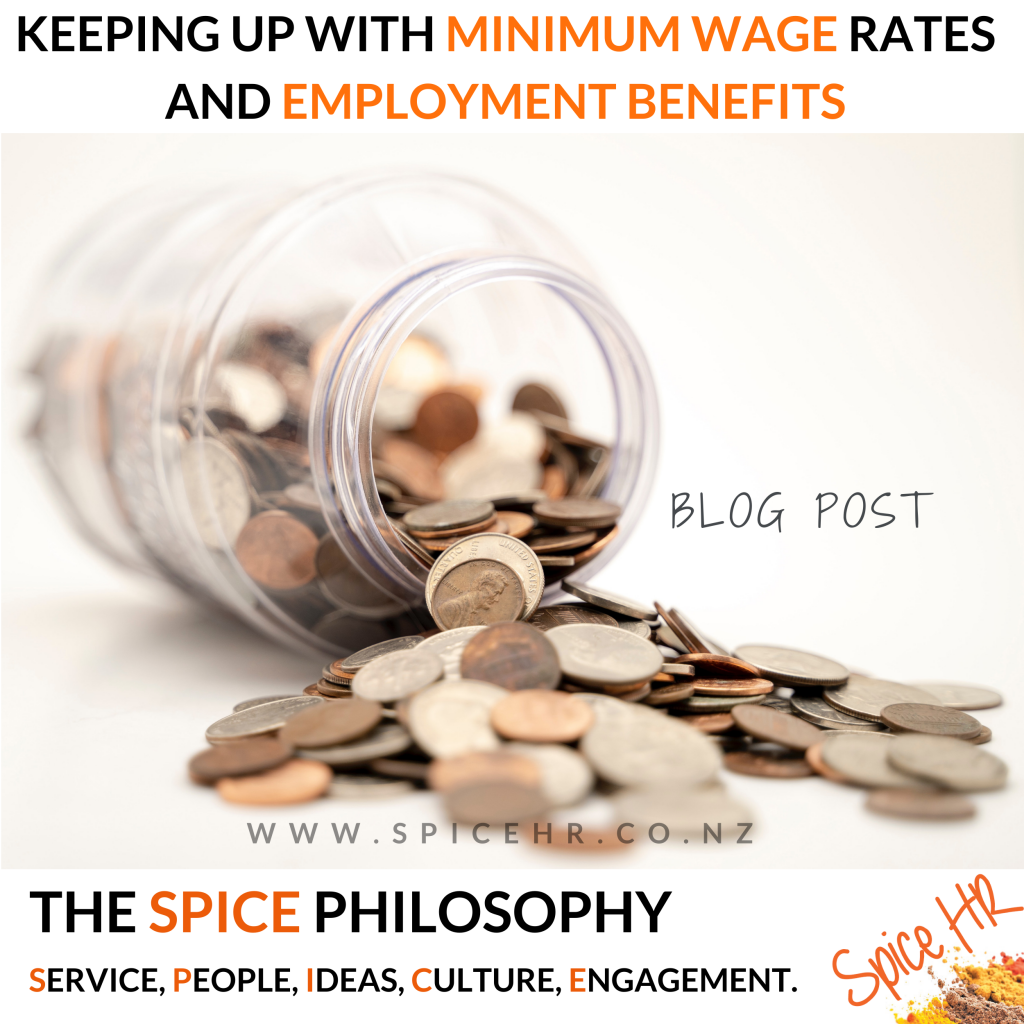 Keeping Up With Minimum Wage Rates And Employment Benefits
At present, the beginning of April will see New Zealand's minimum wage for adults rise by more than $1 per hour. Starting out and training wages will also be increased.
While this is great news for employees, there are sure to be some businesses that struggle to accommodate the wage increases. Especially with the ever-growing threat of COVID-19 looming over the labour market.
When the idea of the incremental wage increase was put forward by the government, they couldn't have imagined that the proposed increase would hit businesses at such a difficult time financially.
With the economy teetering and 1st April fast approaching, you could be forgiven for really feeling the pressure, so we wanted to have a timely chat about the tangible benefits of keeping up to date with market rates and benefits and why regular remuneration reviews remain vital to a successful business.
Keeping Up With Minimum Wage Rates And Employment Benefits
New Zealand's Minimum Wage Increase
The upcoming wage increase is due to take effect on April 1st, 2020. Several economists are already being vocal about the pressures this increase will bring to businesses when the global economy is being heavily impacted by COVID-19.
The proposed increase is a considerable jump of $1.20, bringing adult minimum wages up to $18.90 an hour from $17.70. It is estimated there are nearly a quarter of a million workers currently on the minimum wage.
The training wage will also increase to $15.12 per hour.
Similar increases are proposed for sometime in the next year as part of the government's commitment to reach a $20 minimum wage by April 2021.
Late last year, Workplace Relations and Safety Minister Iain Lees-Galloway said in a press release, "With our economy doing well, we want to make sure that our lowest-paid workers also benefit. The rise in minimum wage is estimated to boost wages by $306 million a year across the economy. That's a good investment in local economies where workers spend their wages."
Unfortunately, the current economy is not looking as healthy due to the downturn in global trade. So the question is being raised of whether the increase should proceed. It is not only the minimum wages workers that need to be considered. As minimum wages increase, it's likely that all wages across the business will have to be improved to close the margin between more experienced employees and the newcomers.
Let's dive into the concept of wages as a whole to understand this a little further.
Keeping Up With Market Rates And Benefits
From a legal standpoint, it is essential to meet minimum wage requirements across the board. But, it's also vital that businesses ensure they are meeting – or exceeding – market rates for their industry. As wages are often the largest cost for any business, this needs careful consideration from a legal and financial standpoint.
There are a number of positive impacts when ensuring your staff receive competitive remuneration. The first is quite simple: happy staff work harder! They are also more loyal and likely to stay with the business long term when they feel they're being paid fairly. And don't forget that long-serving staff can save tremendous costs on recruitment.
For example, Forbes reported that a bank in the UK voluntarily decided to pay the living wage to their cleaning and catering teams. Following this, staff turnover reduced, with impressive retention rates of 77 per cent and 92 per cent. Compared to the industry averages of 54 per cent and 32 per cent, those numbers say it all!
When you offer higher salaries, you are also more likely to attract (and retain) higher-quality candidates.
Employee well-being and satisfaction play an immense role in the success of your business. And while there's more to happiness than just money, take home pay certainly has a role to play.
The Importance Of Regular Remuneration Reviews
NZ's upcoming minimum wage increases are still compulsory at this stage, so it's an ideal time to review how your business approaches remuneration reviews, benefits, and rewards.
Most organisations commit to yearly review processes. You may decide to calculate the cost of living increases across the board, offer rewards based on how the company is doing, or differentiate increases from employee to employee based on performance.
Paying people fairly for a job well done is a no-brainer. The recognition alone is enough to boost productivity and efficiency. Plus, your employees will feel valued and more likely to stick around, staying invested in the business.
Sit down and compare the wages and salaries of your team, comparing them with market trends throughout the industry to make sure they are competitive. But don't forget that as well as the dollars on the table, company culture and the benefits provided play a huge role in creating a fulfilling work environment.
Lastly, you need to ensure that your business can sustain the wage rates in an ever-changing economy.
Is your business ready for the 1st April minimum wage increase? If you are a bit worried about how you will handle the logistics, give the Spice Gals a call and we can help you make sure your HR boxes are ticked. Get in touch with us today.