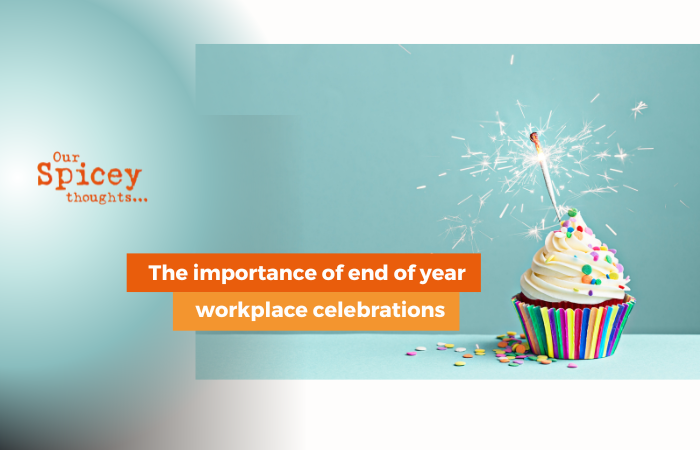 Release the virtual balloons, pop the champagne (or cider), and get the chips and dip ready to roll. The year is rapidly coming to an end, and believe it or not, there are many reasons to celebrate!
Workplace celebrations are important at any time, but after surviving another year of uncertainty and stress, it's even more important to recognise the wins for your business – big and small.
We know you probably just want to get this year over with and move on to brighter times, but before you write 2021 off completely, take a moment to recognise your fantastic team.
Let's chat about why workplace celebrations are so valuable to you and your team at the end of the year.
The Importance Of End Of Year Workplace Celebrations (Even This Year!)
The Value Of Workplace Celebrations
Teams that celebrate together thrive together – truly! While it's important to celebrate success throughout the year, the end of the year is the perfect time to bring everyone together and look at what you and your team have achieved over the last 12 months.
Here's how workplace celebrations benefit your business:
They motivate – recognition is an organic motivator that inspires people to continue being successful.
They unify and reinforce company culture and values – celebrations have a way of bringing people together, particularly if they follow times of challenge.
They build momentum – recognising the small goals provides momentum to carry on and achieve the bigger goals.
They boost positivity – it's easy to get caught up in everything that's going wrong and forget about what's going right. Workplace celebrations shift the focus back onto the good things.
They reward – recognition and reward are essential to keep your team engaged and motivated. The end of year celebrations are a lovely reward for hard work after a year of trials and tribulations.
They encourage team bonding – it's been a year of distancing, which can be hard when working in a team. Coming back together (even virtually) helps rebuild those bonds.
They provide a timeout – after a tough year, your team need space to breathe and step back from work mode so they can start the new year fresh. A workplace celebration is a great way to farewell the old and welcome the new.
What Should You Celebrate?
Feel like this year didn't bring much worth celebrating? Think again! Even if your business has faced challenges in the last 12 months and couldn't thrive as well as you'd like, there are plenty of things to celebrate.
Success doesn't always have to be about reaching a goal. It can be about the process, too.
Love the way your team supported one another during turbulent times? Celebrate that!
Proud of how people pivoted to different work conditions? Celebrate their adaptability!
Did someone come up with a great way to bring in revenue even during lockdown or connect with customers even when your doors were closed? Celebrate, celebrate, celebrate!
Safely Celebrating With Your Team
Just like many things this year, Christmas workplace celebrations may look a little different for your team. But that doesn't mean they can't still be happen!
Even as we enter the Traffic Light system, it's crucial to plan your holiday festivities to be safe, and have a backup plan in place just in case things escalate before your team party rolls around!
Depending on where you are, you may be able to meet outdoors for a meal, or you might have to take the happy hour drinks online.
Whatever you do, make sure your entire team are considered, and make it casual and simple, because we've all had enough stress this year to last the next decade!
Think virtual happy hour, a socially distanced scavenger hunt, a game night, or virtual escape rooms. Most importantly, allow people time to connect, laugh, and reflect on the year's successes because that's what it's all about.
Spare A Thought For The Coming Months
Nobody likes a Debbie downer, but as much as we need to let loose and celebrate, it's also important to look ahead to what's coming next.
As we prepare to wind down for the holidays, we also enter the next COVID framework Traffic Light phase , so it's vital to be prepared to hit the ground running in January 2022.
The government recently announced new support for businesses transitioning into the new framework. This includes some fantastic packages around business advice and mental health support.
For many businesses, this is the light at the end of a very long tunnel. We now have a pathway out of lockdown; things are looking up, and that's definitely worth celebrating.
Of course, new pathways bring changes. If you need help exploring what those changes look like for your people, then get in touch with us here at Spice HR. People are our speciality and we would love to help your business make easy transitions that don't interrupt your team culture.