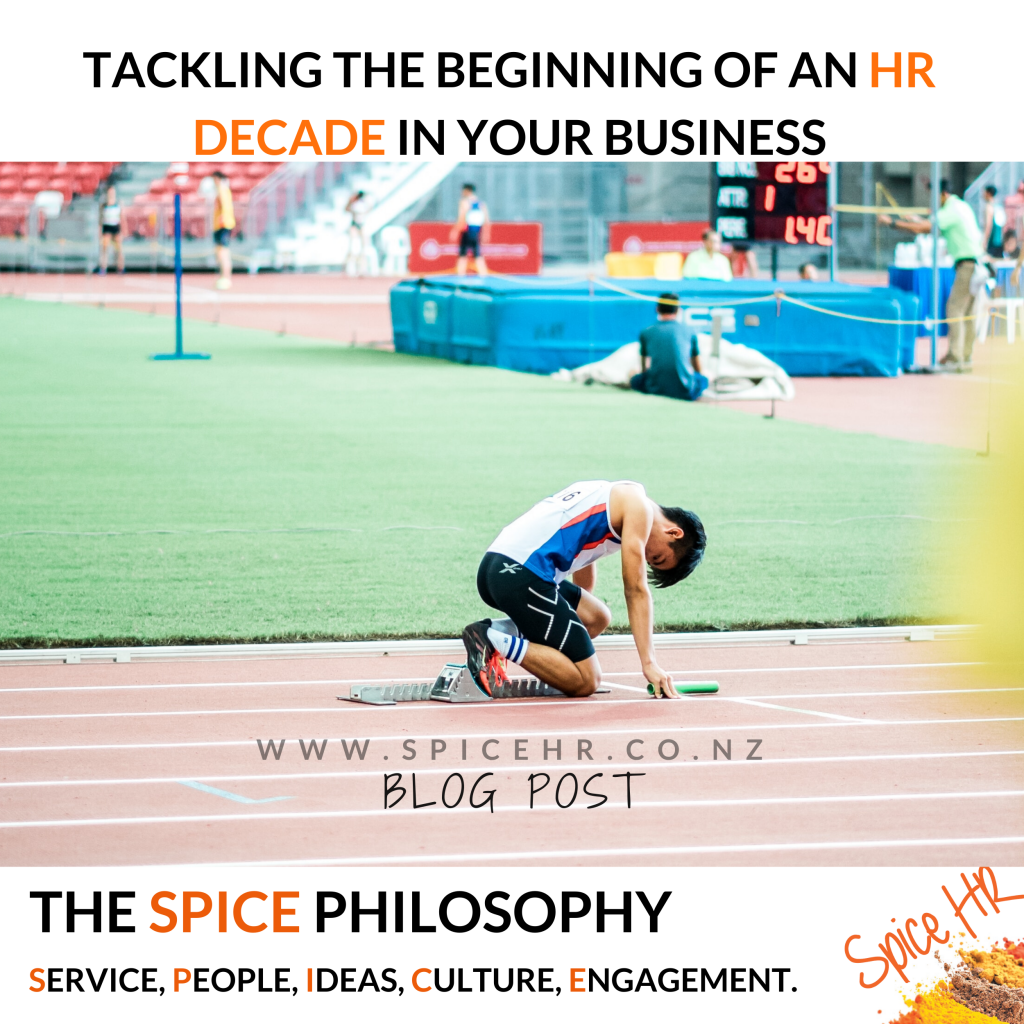 Tackling The Beginning Of An HR Decade In Your Business
Well, a new decade is underway, and you know what that means, right?
Yep; it's now been nearly 30 years since the Spice Girls hit it big!
How time flies, it feels like just yesterday that we were listening to them (maybe that's because it was!)
Our favourite 90s girl power band were together for less than half a decade. Poor planning, perhaps? Don't let their tragic end be the fate of your business.
The dawning of a new decade is the perfect time to start with a clean slate, plan some long-term HR objectives, and get to work on powering towards your goals.
Begin With The End In Mind
Someone once said that every minute spent organising is an hour earned, and we couldn't agree more. Every successful business works from a plan, and yours should be no exception.
When you and your team are clear about the priorities for the months and years ahead, you have structure, direction, and a shared vision that just makes everything flow.
Review your company's vision, mission, and strategy, come up with SMART objectives, review past successes and failures, and you can start charting your course to success.
Ten-Year Planning
Granted, it can be daunting for any business to try and come up with a ten-year plan. In most industries, it is impossible to predict global trends or events that might impact how things go.
Staying on top of the latest research helps, but a ten-year plan will need to be flexible and adaptable.
However, when it comes to HR, it is a little more manageable to come up with a plan for the next decade. You may already have a general idea of which key employees may retire or move on. That means you can develop a succession plan complete with training and incentives to retain and attract high-performers to keep things running smoothly.
Snack-Size Your HR Objectives
"Plan in decades. Think in years. Work in months. Live in days." We love this quote from Nic Haralambous. It perfectly sums up how you should approach your long-term business goals.
While it's hard to imagine what the world will look like in ten years (let alone your life), it is relatively simple to predict the next 12-24 months.
After all, it's what you do in the next year or two that will impact that ten-year plan. Take those ten-year goals and chop them up into annual objectives.
From there, divvy those goals up into bite-sized monthly and weekly plans. This is your best way to make 2020 a stepping stone for a successful decade.
Communicate Your Mission, Values, And Objectives
Great, so you've done the hard work and know where your ship is sailing to for the next decade. Now it's time to let the crew in on the plan. After all, your map is nothing if you don't give it to the people helping you navigate.
Here's how to effectively communicate your strategy to all employees, both existing and incoming:
Summarise it into easy to digest, bite-sized, consumable snippets of information
Tell a story to create purpose and vision
Make the strategy part of everyday company culture
Clarify every individual's role in achieving objectives to ensure buy-in
Check-in regularly with your employees to review the mission
Engage employees in the strategic process
Align individual goals with broader business goals
Acknowledge and reward progress
Keep everyone updated on where you stand in relation to your objectives
Walk the walk at all levels
The beginning of a decade is an exciting time. The years stretch out ahead of you and you can take steps to control the outcome of those years now.
Any good business is only as strong as its team members. Ensure the success of your business with the right people culture. Get in touch with the Spice Gals today to help ensure your HR practices are on the right path for future success.